(Ravenscourt)
Wednesday 13th of December we left dear Brighton at ½ past 11 o'clock - by railroad we did not set of for the terminus till 11 [minutes] before which time we had a delightful walk on the parade for it was a lovely morning tho below the pier rather foggy & going to be such a lovely afternoon. We saw Mr Raikes & his father & some of the Pitre's but not a glimpse of Bossind tho several of the riding masters were out & about.
We had the carriage all to ourselves excepting one plain middle aged gentleman who was very civil & went all the way to London.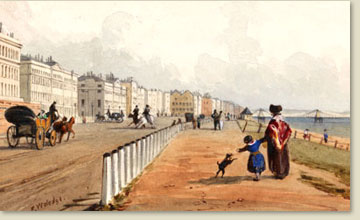 Brighton, The Front with the Chain Pier seen in the distance. (Frederick William Woledge, 1840)
Picture credit: Yale Center for British Art
Click on image to enlarge
Notes
1) The journal starts with Jessy and her family returning from a visit to Brighton. They live in Ravenscourt near Hammersmith.
2) In 1843 the London to Brighton Railway reduced the price of their third-class tickets to 3s. 6d. Within six months of the reduction, 360,000 people arrived in Brighton by train.
3) The riding masters where probably from Robert's Riding School in Lower Market Street.